TCIA Accreditation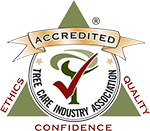 We are pleased to announce that on November 4, 2015, Cicoria Tree & Crane Service, Inc. was awarded Accreditation from the Tree Care Industry Association.
What does Accreditation mean for you, our client?
We know what you are thinking: "Great, you obtained certification. Congratulations, but why do I care?"
Simply put, this Accreditation provides you with peace of mind. Tree work is an inherently dangerous profession that requires knowledge, skill and heavy specialized equipment. Mistakes can ruin century-old trees or destroy homes and property, not to mention the obvious safety concerns inherent to the task. Therefore, it is important that you hire competent professionals to do the job right, and do it safely. TCIA Accreditation provides an independent, third party way for those in need of tree care to find qualified professionals.
Qualified professionals like us.
Accredited companies prove that they do all this by submitting documentation for review and by undergoing a site inspection of each facility by an independent auditor. Company employees are also interviewed and observed performing tree work .
Accredited companies have annual reviews and must re-apply every three years so TCIA can ensure they continue to meet the standards of the accreditation and employ best business practices.
The Tree Care Industry Association (TCIA) is the trade association of more than 2,200 commercial tree care firms and affiliated companies of which fewer than 200 are accredited.